Streaming video is here! Over 30,000 movies, TV shows, & documentaries for your computer, phone, tablet, or TV. Get started »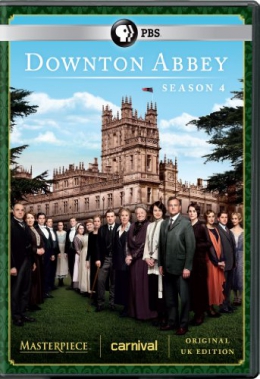 1922. Six months after Matthew's tragic death, his loss is still felt throughout Downton Abbey. Mary struggles to face a new future with her fatherless child, and is encouraged by the family to pick up the pieces. Accepting a new role on the estate, the now-eligible Mary also finds herself the reluctant object of attention from a number of eager suitors. With the twenties in full swing and the tides of change sweeping through Downton, Rose's continued attraction to the bright lights of London spells trouble for the Crawleys, and Edith's budding relationship with Michael Gregson is threatened by events beyond her control. Meanwhile, below stairs, passions run high and young hearts look set to be broken.
| Call Number | Location | Status | Due Date |
| --- | --- | --- | --- |
| DVD TV DOWNTON S4 | DVDs TV Series | Out | 3/7/19 |
Details & Subjects
Additional Authors :
Edition Statement :
Widescreen ; Original UK edition.
Content :
Disc one. Part one ; Part two ; Part three -- Disc two. Part four ; Part five ; Part six ; Part seven -- Disc 3. Part eight ; Part nine: The London Season.
ISBN :
9786315245732
Physical Description :
3 videodiscs (approximately 525 minutes) : sound, color ; 4 3/4 in.
Notes :
Originally broadcast on television in Great Britain in 2013 on ITV. Edited episodes originally broadcast on television in the United States on PBS in 2014 as a part of the television program Masterpiece Theater.
Subjects :