Streaming video is here! Over 30,000 movies, TV shows, & documentaries for your computer, phone, tablet, or TV. Get started »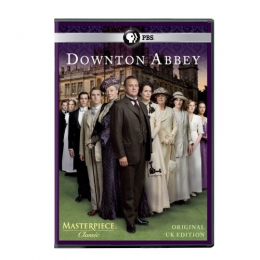 Downton Abbey--a sprawling Edwardian mansion and park nestled in the lush North Yorkshire countryside--needs an heir. A tragedy at sea has claimed the life of the presumed heir, and Lord Grantham is faced with the possibility that the house he's loved his whole life might one day belong to a distant cousin he's never met. Before he can worry about that, he must deal with his scandalous daughter, Lady Mary, who many believe to be the rightful heir to Downton. Even the staff have opinions: while many are devoted to the family, there are others whose selfishness and scheming do more than disrupt the well-oiled workings of the estate. As hundreds of years of British aristocratic privilege are battered by the tides of social upheaval and technical progress, as World War I looms, what does fate have in store for Downton? How will the troubles of its family--above and below stairs--be resolved? Or will life be altered so dramatically that its master no longer matters?
| Call Number | Location | Status | Due Date |
| --- | --- | --- | --- |
| DVD TV DOWNTON S1 | DVDs TV Series | Out | 3/7/19 |
| DVD TV DOWNTON S1 | DVDs TV Series | In | |
Details & Subjects
Additional Authors :
Target Audience/Rating :
Edition Statement :
Widescreen.
Content :
Disc one, Part one: News at breakfast -- The new valet -- A question of inheritance -- A chance -- Exploring -- Changing lives / directed by Brian Percival (66 min.); Part two: A lawyer in the family -- The compliment of a visit -- An unhidden past -- Playing parts / directed by Ben Bolt (48 min.); Special features: The making of "Downton Abbey" (13 min.); A house in history (10 min.); Great British heritage pass (1 min.); PBS.org [text feature].
Publication, Distribution, etc. :
[London] : Carnival Film & Television Limited ; [Alexandria, VA] : PBS Distribution, ©2011.
ISBN :
1608833895
Physical Description :
3 videodiscs (368 min.) : sd., col. ; 4 3/4 in.
Notes :
Originally produced as a British television series in 2010.
Subjects :