The Library will be closed on Monday, 1/21 in observance of Martin Luther King Jr. Day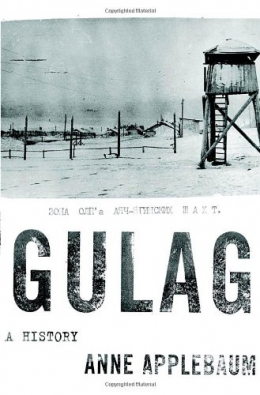 The Gulag-the vast array of Soviet concentration camps-was a system of repression and punishment whose rationalized evil and institutionalized inhumanity were rivaled only by the Holocaust.
The Gulag entered the world's historical consciousness in 1972, with the publication of Alexander Solzhenitsyn's epic oral history of the Soviet camps, The Gulag Archipelago. Since the collapse of the Soviet Union, dozens of memoirs and new studies covering aspects of that system have been published in Russia and the West. Using these new resources as well as her own original historical research, Anne Applebaum has now undertaken, for the first time, a fully documented history of the Soviet camp system, from its origins in the Russian Revolution to its collapse in the era of glasnost. It is an epic feat of investigation and moral reckoning that places the Gulag where it belongs: at the center of our understanding of the troubled history of the twentieth century.
Anne Applebaum first lays out...
more »
| Call Number | Location | Status | Due Date |
| --- | --- | --- | --- |
| 365.45 APP | Adult Nonfiction | In | |
Details & Subjects
Edition Statement :
1st ed.
Publication, Distribution, etc. :
New York : Doubleday, 2003.
ISBN :
0767900561
Physical Description :
677 p. : ill., maps, ports ; 24 cm.
Notes :
Includes bibliographical references and index.
Subjects :