Streaming video is here! Over 30,000 movies, TV shows, & documentaries for your computer, phone, tablet, or TV. Get started »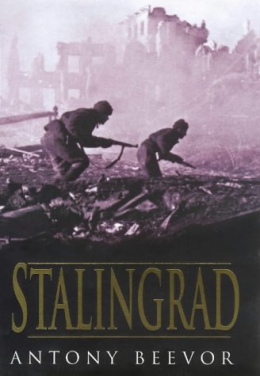 A compulsive narrative of the harrowing siege that was the psychological turning point of World War II, drawn from sources never-before seen by Western scholarsIn June 1941, German forces swept across Soviet territory in an offensive that finally brought them within twenty-five miles of Moscow. But in August 1942, the overconfident Hitler chose the wrong target, Stalin's namesake city on the Volga. The battle of Stalingrad is extraordinary in every way: the triumphant invader fought to a standstill; then the Soviet trap sprung, surrounding their attackers; and the terrible siege, with Germans starving and freezing, forced to fight on by a disbelieving Hitler.The story has never been told as Antony Beevor tells it here. He writes of the great Manichaean clash between Stalin and Hitler, and the strategic brilliance and fatal flaws of their generals. Stalingrad is first and foremost the story of the man on the ground, a soldier's-eye view of fighting house-to-house on an urban...
more »
| Call Number | Location | Status | Due Date |
| --- | --- | --- | --- |
| 940.54 BEE | Adult Nonfiction | In | |
Details & Subjects
Edition Statement :
1st American ed.
Publication, Distribution, etc. :
New York : Penguin Books, 1999.
ISBN :
0670870951
Physical Description :
xvii, 493 p., [16] p. of plates : ill., maps ; 22 cm.
Notes :
Includes bibliographical references (p. 477-485) and index.
Subjects :