The Library will be closed on Monday, 1/21 in observance of Martin Luther King Jr. Day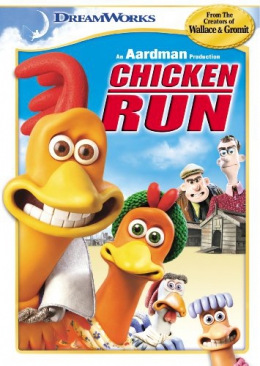 While the chickens on Mrs. Tweedy's farm dream of a better life, a clever hen named Ginger is hatching plans to fly the coop for good. The only problem is, chickens can't fly, or can they? Every escape attempt goes fowl until Rocky, a smooth-talking All-American rooster, crash lands in the coop. It's hardly poultry in motion when Rocky attempts to teach Ginger and her fine feathered friends to fly, but, with teamwork, determination, and a little bit of cluck, the fearless flock plots one last daring attempt in a spectacular bid for freedom.
| Call Number | Location | Status | Due Date |
| --- | --- | --- | --- |
| DVD FAMILY CHICKEN | DVDs Family | In | |
Details & Subjects
Additional Authors :
Target Audience/Rating :
Edition Statement :
Widescreen ed.
Publication, Distribution, etc. :
Universal City, CA : DreamWorks, c2000.
ISBN :
0783246110
Physical Description :
1 videodisc (84 min.) : sd., col. ; 4 3/4 in.
Notes :
Also includes: Directors' Commentary, DVD-ROM screen fun, read-along script, Two behind-the-scenes featurettes, trailers, bios, and more.
Subjects :