Streaming video is here! Over 30,000 movies, TV shows, & documentaries for your computer, phone, tablet, or TV. Get started »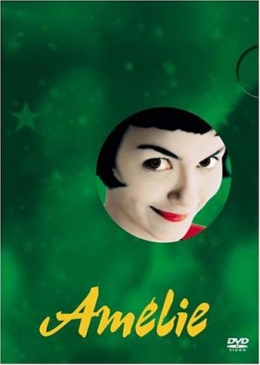 Amélie is a young woman who had a decidedly unusual childhood; misdiagnosed with an unusual heart condition, Amélie didn't attend school with other children, but spent most of her time in her room, where she developed a keen imagination and an active fantasy life. Despite all this, Amélie has grown into a healthy and beautiful young woman who works in a cafe and has a whimsical, romantic nature. She decides to step into the lives of others around her to help them out.
| Call Number | Location | Status | Due Date |
| --- | --- | --- | --- |
| DVD COMEDY AMELIE | DVDs Comedy | Out | 3/1/19 |
Details & Subjects
Additional Authors :
Target Audience/Rating :
Edition Statement :
Widescreen version (2.35:1).
Publication, Distribution, etc. :
Burbank, Calif. : Miramax Home Entertainment : Distributed by Buena Vista Home Entertainment, [2002], c2001.
ISBN :
0788836218
Physical Description :
2 videodiscs (122 min.) : sd., col. ; 4 3/4 in.
Notes :
Special features: French theatrical trailer; U.S. theatrical trailer; "A quai" music video; the look of "Amélie"; Q & A with director Jean-Pierre Jeunet; French Q & A with director and cast; auditions; posters; TV spots; an intimate chat with director Jean-Pierre Jeunet; "Home movies" inside the making of "Amélie."
Subjects :