Streaming video is here! Over 30,000 movies, TV shows, & documentaries for your computer, phone, tablet, or TV. Get started »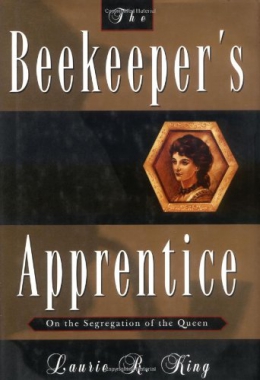 The Beekeeper's Apprentice, Or On The Segregation Of The Queen
Book
place hold

(

0

)
What would happen if Sherlock Homles, a perfect man of the Victorian age--pompous, smug, and misogynisitic--were to come face to face with a twentieth-century female? If she grew to be a partner worthy of his great talents?
Laurie R. King, whose very different first novel,. A Grave Talent (SMP, 1993), drew rave reviews, read the Conan Doyle stories and wondered about such an imaginary encounter. And following through, she has written The Beekeeper's Apprentice.
1914, a young woman named Mary Russell meets a retired beekeeper on the Sussex Downs. His name is Sherlock Holmes. And although he may have all the Victorian "flaws" listed above, the Great Detective is no fool, and can spot a fellow intellect even in a fifteen-year-old woman.
So, at first informally, then consciously, he takes Mary Russell as his apprentice. They work on a few small local cases, then on a larger and more urgent investigation, which ends successfully. All the time, Mary is developing as a...
more »
| Call Number | Location | Status | Due Date |
| --- | --- | --- | --- |
| F KING | Adult Fiction | In | |
Details & Subjects
Edition Statement :
1st ed.
Publication, Distribution, etc. :
New York : St. Martin's Press, 1994.
ISBN :
0312104235
Physical Description :
xvii, 347 p. ; 22 cm.
Notes :
"A Thomas Dunne book."
Subjects :