Streaming video is here! Over 30,000 movies, TV shows, & documentaries for your computer, phone, tablet, or TV. Get started »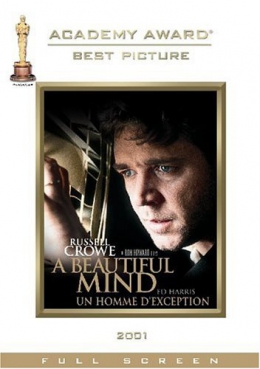 Dramatic biography of John Nash, a mathematical genius, who made an astonishing discovery early in his career and stood on the brink of international acclaim. But the handsome and arrogant Nash soon found himself on a painful and harrowing journey of self-discovery. After many years of struggle, he eventually triumphed over his schizophrenia, and finally, late in life, received the Nobel Prize.
| Call Number | Location | Status | Due Date |
| --- | --- | --- | --- |
| DVD DRAMA BEAUTIFUL | DVDs Drama | In | |
Details & Subjects
Additional Authors :
Target Audience/Rating :
Edition Statement :
[Widescreen version] ; Awards ed.
Publication, Distribution, etc. :
Universal City, CA : Universal, [2002], c2001.
ISBN :
0783261438
Physical Description :
2 videodiscs (135 min.) : sd., col. ; 4 3/4 in.
Notes :
Based on the novel by Sylvia Nasar.
Special features: Disc 1 - feature film; deleted scenes - with optional director's commentary ; Disc 2 - A Beautiful Partnership: Ron Howard and Brain Grazer; development of the screenplay; meeting John Nash - The Nash Theory of Equilibrium; "Accepting the Nobel Prize in Economics"; "The Process of Age Progression"; storyboards to final feature comparison; creation of special effects; scoring the film; inside A Beautiful Mind; Academy Awards: Best Picture, Best Director, Best Supporting Actress, Best Adapted Screenplay; A Beatiful Mind soundtrack.
Subjects :
Genres :