The library will be closed Monday, January 20th for Martin Luther King Jr. Day.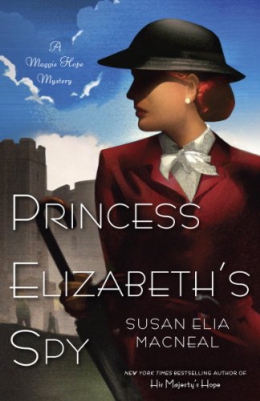 Summary: "Susan Elia MacNeal introduced the remarkable Maggie Hope in her acclaimed debut, Mr. Churchill's Secretary. Now Maggie returns to protect Britain's beloved royals against an international plot--one that could change the course of history. As World War II sweeps the continent and England steels itself against German attack, Maggie Hope, former secretary to Prime Minister Winston Churchill, completes her training to become a spy for MI-5. Spirited, strong-willed, and possessing one of the sharpest minds in government for mathematics and code-breaking, she fully expects to be sent abroad to gather intelligence for the British front. Instead, to her great disappointment, she is dispatched to go undercover at Windsor Castle, where she will tutor the young Princess Elizabeth in math. Yet castle life quickly proves more dangerous--and deadly--than Maggie ever expected. The upstairs-downstairs world at Windsor is thrown into disarray by a shocking murder, which draws Maggie into a vast...
more »
Details & Subjects
Series :
A Maggie Hope mystery
Publication, Distribution, etc. :
New York : Bantam Books Trade Paperbacks, c2012.
ISBN :
0553907573
Physical Description :
1 online resource (369 p.)
Notes :
Description based on print version record.
Subjects :
Genres :