The Library will be closed Monday, May 27th for Memorial Day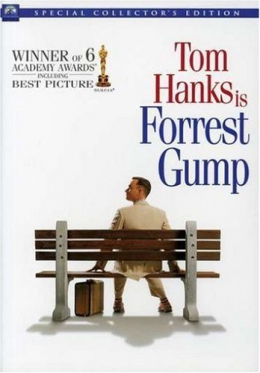 Forrest Gump is not a "smart" man. But the young Alabaman with an IQ of 75 is a thoroughly decent man, who manages to become involved in every major event in American history. And he survives them all with only honesty and niceness as his shields. Thanks to his where-there's-a-will-there's-a-way Mama, Forrest believes in himself. This sees him through being taunted by bullies, playing college football, the army, a business, and -- amazingly -- many of the touchstone events of the Sixties and Seventies: civil rights battles, the Vietnam War, anti-war protests, opening relations with China. The story's extraordinary conceit is that this man, equal parts Candide and Winnie-the-Pooh, was there whenever something big happened to America in those years, meeting Presidents and pop stars, influencing thinkers and trends, his story being our story as a nation.
| Call Number | Location | Status | Due Date |
| --- | --- | --- | --- |
| DVD COMEDY FORREST | DVDs Comedy | In | |
Details & Subjects
Additional Authors :
Target Audience/Rating :
MPAA Rating: Rated PG-13 for drug content, some sensuality and war violence; Canadian Home Video Rating: PG.
Edition Statement :
Widescreen.
Content :
Disc 1 the film: I'm Forrest ... Forrest Gump -- Mama -- Like peas and carrots -- Run Forrest run! -- Private Gump -- Lieutenant Dan -- My best good friend -- Wounded in the buttocks -- You're my girl -- National celebrity -- Happy New Year -- Shrimp boat captain -- Bubba Gump -- Mama's trip to heaven -- Jenny comes home -- Little run -- Forrest meets Forrest -- Beloved mother, wife and friend -- Credits (1994) (141 min); Special features: Audio commentary with director Robert Zemeckis, producer Steve Starkey, and production designer Rick Carter [optional audio feature]; Audio commentary with producer Wendy Finerman [optional audio feature].
Publication, Distribution, etc. :
Hollywood, CA : Paramount Pictures : Distributed by Paramount Home Entertainment, c2006.
ISBN :
0792174844
Physical Description :
2 videodiscs (141 min.) : sd., col. ; 4 3/4 in.
Notes :
Based on the novel by Winston Groom.
Originally produced as an American motion picture in 1994.
Subjects :
Genres :