The library will be closed Monday, May 29 in observance of Memorial Day.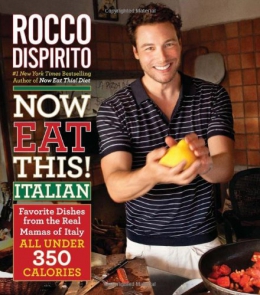 Now Eat This! Italian : Favorite Dishes From The Real Mamas Of Italy, All Under 350 Calories
Book
place hold

(

0

)
Weight-conscious food lovers no longer need to deprive themselves of the ever-popular cuisine of Italy. Award-winning celebrity chef and #1 New York Times bestselling author Rocco DiSpirito's latest Now Eat This! book is the solution .
In his signature style, DiSpirito has recreated 100 classic Italian recipes to be healthy and low in calories and fat-yet still full of flavor. After travelling to Italy and perfecting the dishes side-by-side with the chefs who make them best-the Italian mamas-he offers sinful pastas, sauces, and desserts you never thought you could eat while keeping healthy, including: Spaghetti with My Mama's Meatballs, Mozzarella en Carozza, Chicken Parmigiana, Hand-Torn Pasta alla Bolognese, Sausage and Peppers, Classic Cannoli, Chocolate and Hazelnut Espresso Budino, and much more!
NOW EAT THIS! ITALIAN proves that Italian food doesn't have to be calorie-packed to be delicious. All under 350 calories, these full-flavor, low-fat recipes are sure to indulge your appetite without packing on the pounds. - Amazon
Nonfiction
Copies & Locations
| Call Number | Location | Status | Due Date |
| --- | --- | --- | --- |
| 641.5945 DIS | Adult Nonfiction | In | |
Details & Subjects
Edition Statement :
1st ed.
Content :
Now lose weight, Italian-style -- Italian food like the mamas make -- The now eat this! Italian kitchen -- Antipasti -- Soups and salads -- Contorni -- Panini and pizza -- Pasta and risotto -- Secondi -- Dolci -- The now eat this! Italian diet : two meal plans, few calories, lots of food for Italian food lovers..
Publication, Distribution, etc. :
New York : Grand Central Life & Style, 2012.
ISBN :
0446584517
Physical Description :
366 p. : col. ill. ; 27 cm.
Notes :
Includes index.
Subjects :