The Library will be closed on Monday, 1/21 in observance of Martin Luther King Jr. Day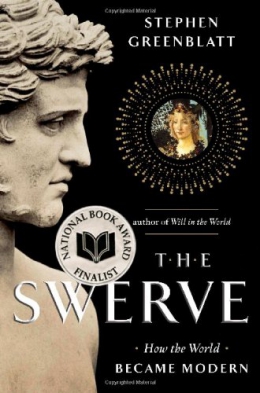 In this book the author transports readers to the dawn of the Renaissance and chronicles the life of an intrepid book lover who rescued the Roman philosophical text On the Nature of Things from certain oblivion. In this work he has crafted both a work of history and a story of discovery, in which one manuscript, plucked from a thousand years of neglect, changed the course of human thought and made possible the world as we know it. Nearly six hundred years ago, a short, genial, cannily alert man in his late thirties took a very old manuscript off a library shelf, saw with excitement what he had discovered, and ordered that it be copied. That book was the last surviving manuscript of an ancient Roman philosophical epic, On the Nature of Things, by Lucretius, a beautiful poem of the most dangerous ideas: that the universe functioned without the aid of gods, that religious fear was damaging to human life, and that matter was made up of very small particles in eternal motion, colliding and...
more »
| Call Number | Location | Status | Due Date |
| --- | --- | --- | --- |
| 940.21 GRE | Adult Nonfiction | In | |
Details & Subjects
Edition Statement :
1st ed.
Content :
The book hunter -- The moment of discovery -- In search of Lucretius -- The teeth of time -- Birth and rebirth -- In the lie factory -- A pit to catch foxes -- The way things are -- The return -- Swerves -- Afterlives.
Publication, Distribution, etc. :
New York : W.W. Norton, c2011.
ISBN :
0393064476
Physical Description :
356 p., [8] p. of plates : col. ill. ; 25 cm.
Notes :
Includes bibliographical references (p. [309]-335) and index.
Subjects :