Streaming video is here! Over 30,000 movies, TV shows, & documentaries for your computer, phone, tablet, or TV. Get started »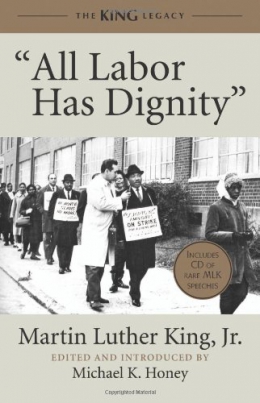 An unprecedented and timely collection of Dr. King's speeches on labor rights and economic justice
People forget that Dr. King was every bit as committed to economic justice as he was to ending racial segregation. He fought throughout his life to connect the labor and civil rights movements, envisioning them as twin pillars for social reform. As we struggle with massive unemployment, a staggering racial wealth gap, and the near collapse of a financial system that puts profits before people, King's prophetic writings and speeches underscore his relevance for today. They help us imagine King anew: as a human rights leader whose commitment to unions and an end to poverty was a crucial part of his civil rights agenda.
Covering all the civil rights movement highlights-Montgomery, Albany, Birmingham, Selma, Chicago, and Memphis-award-winning historian Michael K. Honey introduces and traces King's dream of economic equality. Gathered in one volume for the first time, the...
more »
| Call Number | Location | Status | Due Date |
| --- | --- | --- | --- |
| 323.4 KIN | Adult Nonfiction | In | |
Details & Subjects
Additional Authors :
Series :
The King legacy
Content :
CD: "The unresolved race question," District 65 Thirtieth Anniversary Convention, Madison Square Garden, New York City, October 25, 1963 -- "All labor has dignity," Mason Temple Mass Meeting, Memphis, TN, March 18, 1968.
Publication, Distribution, etc. :
Boston : Beacon Press, 2011.
ISBN :
0807086002
Physical Description :
xxxix, 224 p. : ill. ; 23 cm. + 1 sound disc (digital ; 4 3/4 in.)
Notes :
Includes bibliographical references and index.
Subjects :