The Library will be closed on Monday, 1/21 in observance of Martin Luther King Jr. Day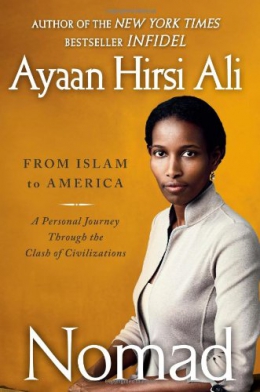 Nomad : From Islam To America--a Personal Journey Through The Clash Of Civilizations
Book
place hold

(

0

)
"This woman is a major hero of our time." -Richard Dawkins Ayaan Hirsi Ali captured the world's attention with Infidel, her compelling coming-of-age memoir, which spent thirty-one weeks on the New York Times bestseller list. Now, in Nomad, Hirsi Ali tells of coming to America to build a new life, an ocean away from the death threats made to her by European Islamists, the strife she witnessed, and the inner conflict she suffered. It is the story of her physical journey to freedom and, more crucially, her emotional journey to freedom-her transition from a tribal mind-set that restricts women's every thought and action to a life as a free and equal citizen in an open society. Through stories of the challenges she has faced, she shows the difficulty of reconciling the contradictions of Islam with Western values. In these pages Hirsi Ali recounts the many turns her life took after she broke with her family, and how she struggled to throw off restrictive superstitions and...
more »
| Call Number | Location | Status | Due Date |
| --- | --- | --- | --- |
| 305.893 HIR | Adult Nonfiction | In | |
Details & Subjects
Edition Statement :
1st Free Press hardcover ed.
Content :
pt. 1. A problem family -- My father -- My half sister -- My mother -- My brother's story -- My brother's son -- My cousins -- Letter to my grandmother -- pt. 2. Nomad again -- Nomad again -- America -- Islam in America -- pt. 3. Sex, money, violence -- School and sexuality -- Money and responsibility -- Violence and the closing of the Muslim mind -- pt. 4. Remedies -- Opening the Muslim mind : an enlightenment project -- Dishonor, death, and feminists -- Seeking God but finding Allah -- Conclusion: The Miyé and the Magaalo -- Epilogue: Letter to my unborn daughter -- The AHA Foundation.
Publication, Distribution, etc. :
New York : Free Press, 2010.
ISBN :
1439157316
Physical Description :
xxi, 277 p. ; 24 cm.
Subjects :