Streaming video is here! Over 30,000 movies, TV shows, & documentaries for your computer, phone, tablet, or TV. Get started »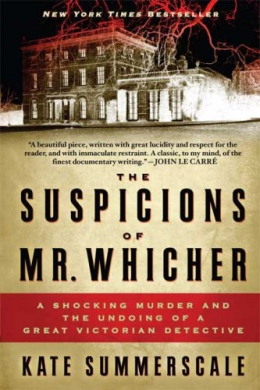 The Suspicions Of Mr. Whicher [downloadable Audiobook]
E-Audiobook
view @ bridges
In June of 1860 three-year-old Saville Kent was found at the bottom of an outdoor privy with his throat slit. The crime horrified all England and led to a national obsession with detection, ironically destroying, in the process, the career of perhaps the greatest detective in the land, Jonathan Whicher of Scotland Yard. Whicher believed the unbelievable--that someone within the family was responsible for the murder, but without sufficient evidence or a confession, his case was circumstantial and he returned to London a broken man. Though he would be vindicated five years later, the real legacy of Jonathan Whicher lives on in fiction - he has become the inspiration for the many fictional investigators of today - from the cryptic Sgt. Cuff in Wilkie Collins's The Moonstone to Dashiell Hammett's Sam Spade, to Arthur Conan Doyal's Sherlock Holmes.
Details & Subjects
Additional Authors :
Edition Statement :
Downloadable audiobook.
Publication, Distribution, etc. :
Minneapolis : HighBridge Company, 2008.
ISBN :
1598878530
Notes :
Downloadable audio file.
Subjects :