The Library will be closed on Monday, 1/21 in observance of Martin Luther King Jr. Day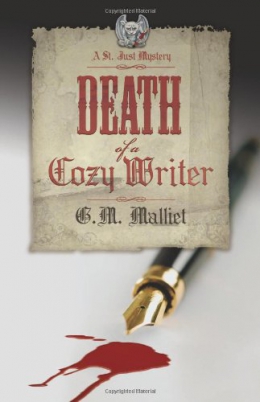 Winner of the 2008 Agatha Award for Best First Novel From deep in the heart of his eighteenth century English manor, millionaire Sir Adrian Beauclerk-Fisk writes mystery novels and torments his four spoiled children with threats of disinheritance. Tiring of this device, the portly patriarch decides to weave a malicious twist into his well-worn plot. Gathering them all together for a family dinner, he announces his latest blow - a secret elopement with the beautiful Violet... who was once suspected of murdering her husband.
Within hours, eldest son and appointed heir Ruthven is found cleaved to death by a medieval mace. Since Ruthven is generally hated, no one seems too surprised or upset - least of all his cold-blooded wife Lillian. When Detective Chief Inspector St. Just is brought in to investigate, he meets with a deadly calm that goes beyond the usual English reserve. And soon Sir Adrian himself is found slumped over his writing desk - an ornate knife thrust into his heart....
more »
| Call Number | Location | Status | Due Date |
| --- | --- | --- | --- |
| F MALLIET | Adult Fiction | In | |
Details & Subjects
Edition Statement :
1st ed.
Publication, Distribution, etc. :
Woodbury, Minn. : Midnight Ink, c2008.
ISBN :
0738712485
Physical Description :
xii, 297 p. ; 21 cm.
Subjects :