Overdue fees for DVDs and Blu-Rays will increase from 15 cents/day to 30 cents/day effective July 1, 2017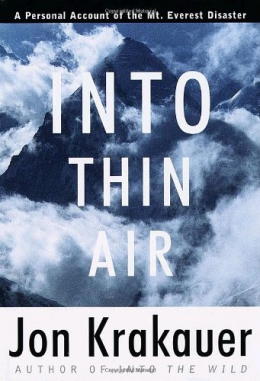 Into Thin Air : A Personal Account Of The Mount Everest Disaster
Book
place hold

(

0

)
When Jon Krakauer reached the summit of Mt. Everest in the early afternoon of May 10, 1996, he hadn't slept in fifty-seven hours and was reeling from the brain-altering effects of oxygen depletion. As he turned to begin his long, dangerous descent from 29,028 feet, twenty other climbers were still pushing doggedly toward the top.No one had noticed that the sky had begun to fill with clouds. Six hours later and 3,000 feet lower, in 70-knot winds and blinding snow, Krakauer collapsed in his tent, freezing, hallucinating from exhaustion and hypoxia, but safe. The following morning, he learned that six of his fellow climbers hadn't made it back to their camp and were desperately struggling for their lives. When the storm finally passed, five of them would be dead, and the sixth so horribly frostbitten that his right hand would have to be amputated.
Into Thin Air is the definitive account of the deadliest season in the history of Everest by the acclaimed journalist and author of the...
more »
Nonfiction
Copies & Locations
| Call Number | Location | Status | Due Date |
| --- | --- | --- | --- |
| 796.522 KRA | Adult Nonfiction | In | |
Details & Subjects
Edition Statement :
1st ed.
Publication, Distribution, etc. :
New York : Villard, c1997.
ISBN :
0679457526
Physical Description :
xx, 293 p. : ill., maps ; 25 cm.
Notes :
Maps on lining papers.
Subjects :