Streaming video is here! Over 30,000 movies, TV shows, & documentaries for your computer, phone, tablet, or TV. Get started »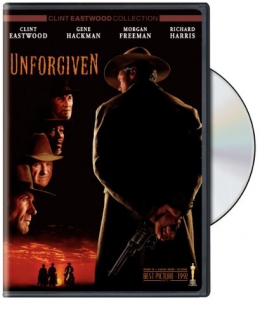 Bill Munny is who is a retired, once ruthless killer-turned-hog farmer is flat broke. He is a widower with two young children to tend to and feels he has no choice but accept on last bounty hunter mission to find and kill 2 young gunslingers who brutalized and cut up the face of a local prostitute. Bill teams up with his old partner Ned and the cocky greenhorn, The Schofield Kid. The three men soon find out this bounty has many more obstacles to over come besides just finding and killing these men. Little Bill is the town sheriff of Old Whiskey who keeps a tight hold on what goes on in his town and outlaws all fire arms within the city limits. He has little respect for assassins and hired guns and enforces his law with the most brutal of measures.
| Call Number | Location | Status | Due Date |
| --- | --- | --- | --- |
| DVD WESTERN UNFORGIVEN | DVDs Western | Out | 4/1/19 |
Details & Subjects
Additional Authors :
Target Audience/Rating :
MPAA rating: R; language and violence and for a scene of sexuality.
Edition Statement :
Widescreen / Full screen
Series :
Clint Eastwood collection
Publication, Distribution, etc. :
Burbank, CA : Distributed by Warner Home Video, [2007]
ISBN :
9781419855283
Physical Description :
1 videodisc (127 min.) : sd., col. ; 4 3/4 in.
Notes :
Originally produced as a motion picture in 1992.
Clint Eastwood, Gene Hackman, Morgan Freeman, Richard Harris.
Subjects :
Genres :