The Library will be closed Monday, May 28th in observance of Memorial Day.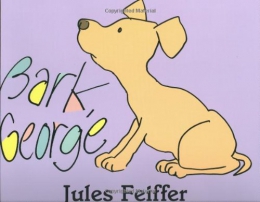 "Bark, George," says George's mother, and George goes: "Meow," which definitely isn't right, because George is a dog. And so is his mother, who repeats, "Bark, George." And George goes, "Quack, quack."What's going on with George? Find out in this hilarious new picture book from Jules Feiffer. 2000 ALA Notable Children's Book, 2000 Notable Children's Books(ALA), and 2000 Charlotte Zolotow Award Honor Book 2001 Buckeye Children's Book Award, 00-01 Keystone to Reading Book Award Masterlist, and 00 2X2 Reading List (TLA)When George's mother tells her son to bark, he meows. She patiently explains that "Cats go meow. Dogs go arf. Now, bark, George." But he quacks! Then oinks. Then moos. Becoming less patient and more exasperated, George's mom takes him to the vet, who reaches deep down inside the errant pup, and, much to everyone's surprise, pulls out a cat! Then a duck, a pig, and finally a cow. George is cured, and barks at last! On...
more »
| Call Number | Location | Status | Due Date | |
| --- | --- | --- | --- | --- |
| E FEIFFER | Easies | Out | 6/14/18 | » place hold |
Details & Subjects
Edition Statement :
1st ed.
Publication, Distribution, etc. :
[New York?] : HarperCollins Publishers, 1999.
ISBN :
0062051865
Physical Description :
1 v. (unpaged) : col. ill. ; 24 x 29 cm.
Notes :
"Michael di Capua Books."
Subjects :