The library's restrooms will be closed for renovation March 2nd - April 6th. Click here for details.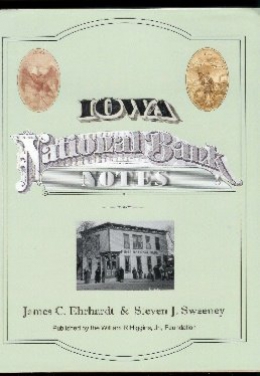 Iowa National Bank Notes : A Comprehensive Census Of The Notes And History Of The Banks
Book
place hold

(

0

)
From the Civil War until 1935, national banks were authorized to issue federal currency under their own names and bearing the signatures of local bank officers. Over 500 national banks in Iowa issued almost $300,000,000 worth of notes. The tiny percentage of notes that still survive have become treasured collector's items. The Higgins Museum in Okoboji, Iowa, displays many of these rare and unusual notes for the pleasure of the viewers. This book presents detailed information on 11,058 known Iowa notes. Data summarizing the census by town, note type, and Treasury signatures, etc. are also provided.
| Call Number | Location | Status | Due Date |
| --- | --- | --- | --- |
| 769.55 EHR | Adult Nonfiction | In | |
Details & Subjects
Additional Authors :
Edition Statement :
1st ed.
Content :
Introduction -- Survival and recovery -- A census of Iowa National Bank notes and their banks -- Summary and analysis of the census -- Illustrations of Iowa National Bank notes -- The Abram Rutt National Bank of Casey -- Nevada's bank holiday -- Non-issuing Iowa National Banks -- Index to bank officers.
Publication, Distribution, etc. :
Okoboji, Iowa : William J. Higgins, Jr., Foundation, c2006.
ISBN :
9780978663308
Physical Description :
viii, 236 p. : ill. ; 29 cm.
Subjects :