The Library will be closed Monday, May 27th for Memorial Day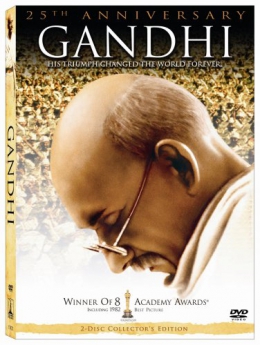 Follows the life of Mahatma Gandhi from his days as a lawyer in South Africa to his role as India's spiritual leader by using his philosophy of non-violent but direct-action protest that helped end British rule. Centers on the extraordinary man who fought for a nonviolent, peaceful existence and set an entire nation free.
| Call Number | Location | Status | Due Date |
| --- | --- | --- | --- |
| DVD DRAMA GANDHI | DVDs Drama | In | |
Details & Subjects
Additional Authors :
Target Audience/Rating :
Edition Statement :
Widescreen.
Publication, Distribution, etc. :
Culver City, Calif. : Sony Pictures Home Entertainment, [2007]
ISBN :
9781424840946
Physical Description :
2 videodiscs (190 min.) : sd., col. ; 4 3/4 in.
Notes :
Originally released as a motion picture in 1982.
Special features: "In search of Gandhi" featurette: Lord Attenborough discusses the various hurdles he faced in getting the film made; "Reflections on Ben" featurette; "Madeleine Slade: an Englishwoman abroad" featurette; "The funeral" featurette; "Shooting an epic in India" featurette; "Looking back" featurette; "Designing Gandhi" - 3 mini featurettes; "Ben Kingsley talks about Gandhi" featurette; four vintage newsreel shorts; "The making of 'Gandhi': a photo montage of behind-the-scenes stills.
Subjects :
Genres :