Streaming video is here! Over 30,000 movies, TV shows, & documentaries for your computer, phone, tablet, or TV. Get started »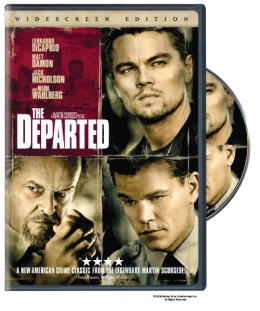 In South Boston, the state police force are waging a war on Irish-American organized crime. Undercover cop Billy Costigan is assigned to infiltrate the mob syndicate, which is run by gangland chief Frank Costello. Billy quickly gains Costello's confidence. Colin Sullivan is a hardened young criminal who has infiltrated the police department as an informer for the syndicate. Colin is rising to a position of power within the Special Investigation Unit. Each man becomes deeply consumed by his double life, gathering information about the plans and counter-plans of the operations he has penetrated. But when it becomes clear to both the mob and the police that there's a mole in their midst, Billy and Colin are suddenly thrust into danger. Afraid of being caught and exposed to the enemy, they each must race to uncover the identity of the other man in time to save himself.
| Call Number | Location | Status | Due Date |
| --- | --- | --- | --- |
| DVD DRAMA DEPARTED | DVDs Drama | In | |
Details & Subjects
Additional Authors :
Target Audience/Rating :
MPAA rating: R; for strong brutal violence, pervasive language, some strong sexual content and drug material.
Edition Statement :
Widescreen.
Publication, Distribution, etc. :
Burbank, CA : Warner Home Video, [2007]
ISBN :
9781419818134
Physical Description :
1 videodisc (152 min.) : sd., col. ; 4 3/4 in.
Notes :
Based on the 2002 screenplay "Wu jian dao" by Alan Mak and Felix Chong.
Special features: None.
Subjects :
Genres :