The library will be closed Monday, May 30th for Memorial Day.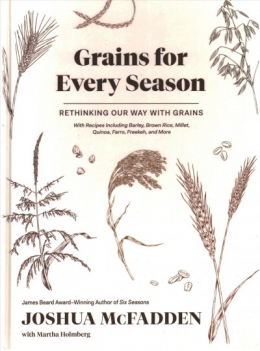 Grains For Every Season : Rethinking Our Way With Grains
Book
place hold

(

0

)
McFadden gives us flawless recipes to transform accessible grains into knock-your-socks off not only breads, pastas, and pizzas but also stir-fries, soups, and salads, and even desserts. With recipes organized into chapters by grain type and designated as gluten-free or not, readers will learn how best to prep, cook, and store the grain and then learn all the grain can do in dishes both savory and sweet, from Meatloaf with Barley and Mushrooms to Peanut Butter-Barley Cookies, from Oat Granola Bars to a super-fudgy Chocolate Oat Layer Cake with Chocolate Oat Milk Frosting, and from Beef and Swiss Chard Soup with Buckwheat to Buckwheat Cream Scones. Throughout the book there are expanded sections highlighting six seasonal variations on grain bowls, salads, rice dishes, and more, to show how flexible and satisfying cooking with grains can be.
| Call Number | Location | Status | Due Date |
| --- | --- | --- | --- |
| 641.631 MCF | New | Out | 5/28/22 |
Details & Subjects
Additional Authors :
Content :
Why I'm excited about cooking with whole grains and hope you are, too -- What is a grain, anyway? -- Whole grain basics and techniques -- Barley -- Brown rice -- Buckwheat -- Corn -- Millet -- Oats -- Quinoa -- Rye -- Wheat -- Wild rice -- Go-tos : Recipes to use many ways with grains -- Larder : Basics you should always have on hand.
Publication, Distribution, etc. :
New York, NY : Artisan Books, [2021]
ISBN :
157965956X
Physical Description :
349 pages : illustrations ; 27 cm
Notes :
Subjects :
Genres :