The library will be closed Monday, May 30th for Memorial Day.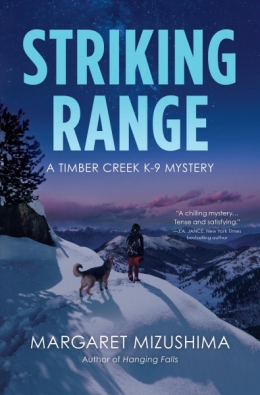 Summary: He was suspect number one -- the man who tried to kill Deputy Mattie Cobb and may have killed her father thirty years earlier. But when Mattie and cold case detective Jim Hauck reach the Colorado state prison where they will finally get to interview him, he's found dead in his cell. There's only one clue: a map leading to Timber Creek and rugged Redstone Ridge. Though she usually works with veterinarian Cole Walker, Mattie's K-9 partner Robo has just sired a litter of pups, who require special, time-consuming care at Cole's clinic. Left to explore the map's clue without him, Mattie and Robo journey into the burned forest surrounding Redstone Ridge. But before they can finish their search they're called to help investigate the death of a young woman found in a campground filled with elk hunters. Identification of the deceased points to her having recently given birth, but the infant is nowhere to be found. As a deadly storm descends upon the mountains, covering everything with a layer...
more »
| Call Number | Location | Status | Due Date |
| --- | --- | --- | --- |
| F MIZUSHIMA | Adult Fiction | In | |
Details & Subjects
Edition Statement :
First edition.
Series :
A Timber Creek K-9 mystery ; 7
Publication, Distribution, etc. :
New York : Crooked Lane, 2021.
ISBN :
1643857460
Physical Description :
275 pages ; 25 cm
Subjects :
Genres :