The library will be closed Monday, January 17th for Martin Luther King Jr. Day.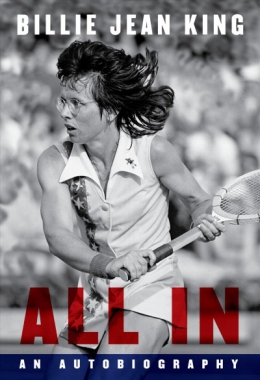 Summary: Billie Jean King was only seven years old when she told her mother, I'm going to do something great with my life someday. But the world she wanted did not exist yet, so she set out to create it. In this spirited account, King details her life's journey to find her true self. She recounts her groundbreaking tennis successes that came at a breathtaking pace -- six years as the top-ranked woman in the world, twenty Wimbledon championships, thirty-nine grand-slam titles, and her watershed defeat of Bobby Riggs in the famous Battle of the Sexes. King poignantly recalls the cultural backdrop of her career and the profound impact on her worldview from the women's movement, the assassinations and anti-war protests of the 1960s, the civil rights movement, and, eventually, the LGBTQ+ rights movement. King describes the myriad challenges she hurdled, including entrenched sexism, an eating disorder, near financial ruin after being outed, and accepting her sexual identity. It was not until the age...
more »
| Call Number | Location | Status | Due Date |
| --- | --- | --- | --- |
| B KING | New | Out | 2/1/22 |
Details & Subjects
Additional Authors :
Edition Statement :
First edition.
Publication, Distribution, etc. :
New York : Alfred A. Knopf, 2021.
ISBN :
1101947330
Physical Description :
481 pages, 32 unnumbered pages of plates : illustrations (some color) ; 25 cm
Notes :
Subjects :
Genres :