The library will be closed Monday, May 29 in observance of Memorial Day.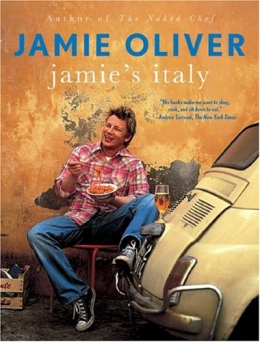 Bestselling author Jamie Oliver finally devotes an entire book to America's favorite cuisine--Italian!
Italy and its wonderful flavors have always had a major influence on Jamie Oliver's food and cooking. In Jamie's Italy, he travels this famously gastronomic country paying homage to the classic dishes of each region and searching for new ideas to bring home. The result is a sensational collection of Italian recipes, old and new, that will ensure that Italy's influence reaches us all.
Italy has inspired Jamie Oliver throughout his career. His ambition has always been to travel across the country on a quest to capture the very essence of Italian cooking--and to produce the best and simplest Italian cookbook for everybody anywhere to enjoy.
Jamie's Italy is the result of that journey--and it's a land of plenty. As well as providing more than 120 brand-new recipes for everything from risotto to roasts and spaghetti to stews, structured as traditional trattoria menus, Jamie...
more »
Nonfiction
Copies & Locations
| Call Number | Location | Status | Due Date |
| --- | --- | --- | --- |
| 641.5945 OLI | Adult Nonfiction | In | |
Details & Subjects
Additional Authors :
Edition Statement :
1st ed.
Publication, Distribution, etc. :
New York : Hyperion, 2006.
ISBN :
9781401301958
Physical Description :
xv, 319 p. : col. ill. ; 26 cm.
Notes :
Includes index.
Subjects :