The library will be closed Monday, July 4th for Independence Day.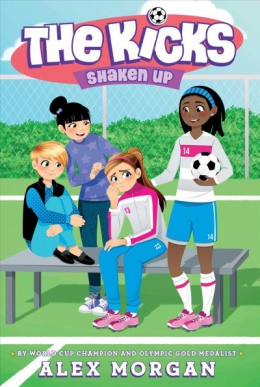 Devin is finally getting used to California; she has sunstreaks in her hair and has even picked up some So-Cal lingo. Then Devin experiences an earthquake, and she's more freaked out than she expected she would be. The earthquake is just the first in a chain of events that shake Devin's confidence. She fails a test in a subject she knows well. Her crush seems to have his attention on another girl. And worst of all, her soccer mojo is nowhere to be found. Now Devin, the girl who usually inspires confidence in her friends and teammates, will have to turn to them for support.
| Call Number | Location | Status | Due Date |
| --- | --- | --- | --- |
| J F MORGAN | Junior Fiction | In | |
| J F MORGAN | Junior Fiction | In | |
Details & Subjects
Target Audience/Rating :
Edition Statement :
First Simon & Schuster Books for Young Readers paperback edition.
Series :
The Kicks ; 5
Publication, Distribution, etc. :
New York, New York : Simon & Schuster Books, 2016.
ISBN :
1481451014
Physical Description :
118 pages ; 20 cm
Subjects :
Genres :