The library will be closed Monday, July 4th for Independence Day.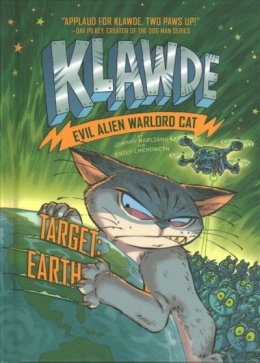 Our favorite warlord cat turns his malevolent gaze to the one target he never thought he'd consider: Earth. But conquering a world is a challenge, even for Klawde, and he'll need two things for his plan to succeed: an army of zombie squirrels, and, of course, money. Lots of money. And he has a plan to get it. Meanwhile, as his evil pet plots world domination, Raj is also trying to make some extra cash. He's dying for a cool virtual-reality headset and is determined to get his yard-cleaning business off the ground to pay for it. But when a friendly neighbor catches wind of Klawde's plan, Raj and Klawde's stories collide, and Raj may end up paying for his cat's schemes. Will Klawde's thirst for power finally be quenched? Can Raj bear the responsibility of a small business? And why are all the squirrels acting strange?
| Call Number | Location | Status | Due Date |
| --- | --- | --- | --- |
| J F MARCIANO | Junior Fiction | Out | 7/13/22 |
Details & Subjects
Additional Authors :
Series :
Klawde: evil alien warlord cat ; 4
Publication, Distribution, etc. :
New York : Penguin Workshop, an imprint of Penguin Random House LLC, [2020]
ISBN :
1524787299
Physical Description :
217 pages : color illustrations ; 19 cm.
Subjects :
Genres :