The Library will be closed on Monday, 1/21 in observance of Martin Luther King Jr. Day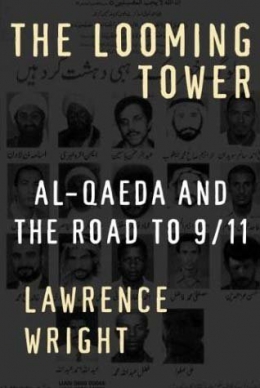 A sweeping narrative history of the events leading to 9/11, a groundbreaking look at the people and ideas, the terrorist plans and the Western intelligence failures that culminated in the assault on America. Lawrence Wright's remarkable book is based on five years of research and hundreds of interviews that he conducted in Egypt, Saudi Arabia, Pakistan, Afghanistan, Sudan, England, France, Germany, Spain, and the United States.
The Looming Tower achieves an unprecedented level of intimacy and insight by telling the story through the interweaving lives of four men: the two leaders of al-Qaeda, Osama bin Laden and Ayman al-Zawahiri; the FBI's counterterrorism chief, John O'Neill; and the former head of Saudi intelligence, Prince Turki al-Faisal.
As these lives unfold, we see revealed: the crosscurrents of modern Islam that helped to radicalize Zawahiri and bin Laden . . . the birth of al-Qaeda and its unsteady development into an organization capable of the American embassy...
more »
| Call Number | Location | Status | Due Date |
| --- | --- | --- | --- |
| 973.931 WRI | Adult Nonfiction | In | |
Details & Subjects
Edition Statement :
1st ed.
Content :
The martyr. -- The sporting club. -- The founder. -- Change. -- The miracles. -- The base. -- Return of the hero. -- Paradise. -- The Silicon Valley. -- Paradise lost. -- The prince of darkness. -- The boy spies. -- Hijira. -- Going operational. -- Bread and water. -- "Now it begins" -- The new millennium. -- Boom. -- The big wedding. -- Revelations. -- Principal characters.
Publication, Distribution, etc. :
New York : Knopf, 2006.
ISBN :
9780375414862
Physical Description :
469 p., [16] p. of plates : ill., maps ; 25 cm.
Notes :
Includes bibliographical references (p. 429-438) and index.
Subjects :