The library building is currently closed due to Covid-19. Visit our homepage for more information.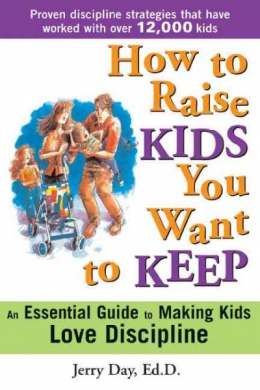 How To Raise Kids You Want To Keep : The Proven Discipline Program Your Kids Will Love
Book
place hold

(

0

)
A daily challenge for today's parents is incorporating positive discipline techniques and practices that put an end to temper tantrums, defiance and meltdowns. Dr. Jerry Day helps parents develop practical methods that teach children a fundamental attribute: how to willingly live under authority. His successful methods are based on four key principles that parents must instill in their relationships with their youngsters: 1. Tolerance and acceptance, 2. Respect and admiration, 3. Fun, 4. Communication. The clear guidance and real-life success stories that distinguish this book will help end, once and for all, the constant tug-of-war between parent and child.
| Call Number | Location | Status | Due Date |
| --- | --- | --- | --- |
| 649.64 DAY | Adult Nonfiction | In | |
| 649.64 DAY | Adult Nonfiction | In | |
Details & Subjects
Content :
The secret -- How to create a willingness to live under parental authority -- How to build a lasting relationship with your child -- The 30-second technique -- Pillow talk -- The now or later technique -- How to be a good dad in a mom's world -- The more-not-less technique -- How to get your parents to give you anything you want (within reason) -- The Marks method -- Tell a story technique -- The Scarlet O'Hara technique -- The poisoning the well technique -- Raising the ADHD child -- Final thoughts.
ISBN :
140220745X
Physical Description :
xii, 300 pages ; 23 cm
Notes :
Subjects :