The Library will be closed Monday, May 28th in observance of Memorial Day.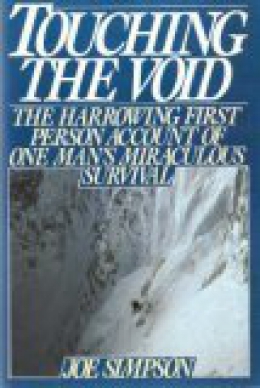 With his partner, Simpson, dangling helplessly over a 3,000-foot cliff, Simon Yates was forced to cut Simpson's rope just seconds before his own snow seat would have collapsed, pulling him to his death. Consumed by grief and guilt, Yates struggled back to camp--only to find Simpson crawling deliriously through a blizzard. Illustrated.Concise and yet packed with detail, Touching the Void, Joe Simpson's harrowing account of near-death in the Peruvian Andes, is a compact tour de force that wrestles with issues of bravery, friendship, physical endurance, the code of the mountains, and the will to live. Simpson dedicates the book to his climbing partner, Simon Yates, and to "those friends who have gone to the mountains and have not returned." What is it that compels certain individuals to willingly seek out the most inhospitable climate on earth? To risk their lives in an attempt to leave footprints where few or none have gone before? Simpson's vivid narrative of a dangerous...
more »
| Call Number | Location | Status | Due Date |
| --- | --- | --- | --- |
| 796.522092 SIM | Adult Nonfiction | In | |
Details & Subjects
Edition Statement :
1st U.S. ed.
Publication, Distribution, etc. :
New York : Harper & Row, c1988.
ISBN :
0060160276
Physical Description :
174 p., [12] p. of plates : ill. (some col.) ; 25 cm.
Notes :
Reprint. Originally published: Great Britain : J. Cape, 1988.
Subjects :