The library building is currently closed due to Covid-19. Visit our homepage for more information.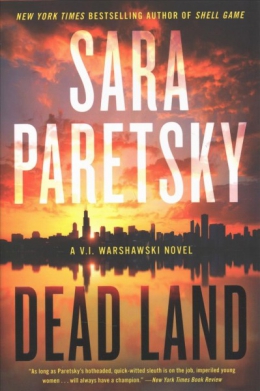 Chicago may be the city of broad shoulders, but its political law is "Pay to Play." Money changes hands in the middle of the night, and by morning, buildings and parks are replaced by billion-dollar projects. Chicago PI V.I. Warshawski gets pulled into one of these clandestine deals through her impetuous goddaughter, Bernie Fouchard. Bernie tries to rescue Lydia Zamir, a famed singer-songwriter now living on the streets; Zamir's life fell apart when her lover was murdered next to her in a mass shooting at an outdoor concert. Not only does Bernie plunge her and V.I. headlong into the path of some ruthless developers, they lead to the murder of the young man Bernie is dating. The detective finds a terrifying conspiracy stretching from Chicago's parks to a cover-up of the dark chapters in America's meddling in South American politics. Before she finds answers, this electrifying novel pushes V.I. close to the breaking point: People who pay to play take no prisoners.
| Call Number | Location | Status | Due Date |
| --- | --- | --- | --- |
| F PARETSKY | New | Out | 11/30/20 |
Details & Subjects
Edition Statement :
First edition.
Series :
V.I. Warshawski ; 20
ISBN :
0062435922
Physical Description :
405 pages ; 24 cm.
Subjects :
Genres :