The Johnston Schools will be running free lunch sites for those 18 and younger while schools are closed. Find locations »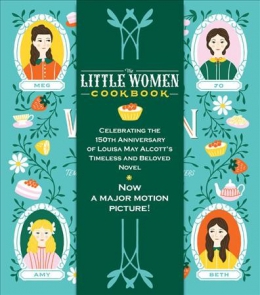 The Little Women Cookbook : Tempting Recipes From The March Sisters And Their Friends And Family
Book
place hold

(

0

)
Experience the exciting and heartwarming world of the March sisters and "Little Women" right in your own kitchen. This is the first cookbook to celebrate the scrumptious and comforting foods that play a prominent role in Louisa May Alcott's classic novel. Do you wonder what makes the characters so excited to make -- and eat! -- sweets and desserts like the exotically named Blancmange or the mysterious Bonbons with Mottoes, along with favorites like Apple Turnovers, Plum Pudding, and Gingerbread Cake? Find out for yourself with over 50 easy-to-make recipes for these delectable treats and more, all updated for the modern kitchen. From Hannah's Pounded Potatoes to Amy's Picnic Lemonade, from the charming Chocolate Drop Cookies that Professor Bhaer always offers to Meg's twins to hearty dinners that Hannah and Marmee encourage the March sisters to learn to make, you'll find an abundance of delicious teatime drinks and snacks, plus breakfasts, brunches, lunches, suppers, and desserts. Featuring full-color photos, evocative illustrations, fun and uplifting quotes from the novel, and anecdotes about Louisa May Alcott.
| Call Number | Location | Status | Due Date |
| --- | --- | --- | --- |
| 641.5974 MOR | New | In | |
Details & Subjects
Content :
Hannah's breakfasts -- Gatherings with family and friends -- March family dinners and suppers -- Sweet treats, desserts, and drinks.
ISBN :
1558329919
Physical Description :
112 pages : color illustrations, color portraits ; 23 cm
Notes :
Subjects :
Genres :
chat loading...