Streaming video is here! Over 30,000 movies, TV shows, & documentaries for your computer, phone, tablet, or TV. Get started »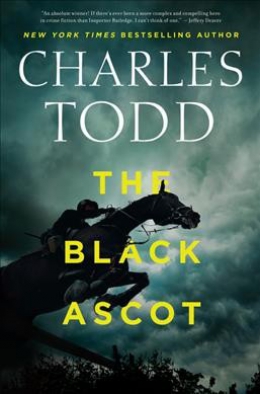 An astonishing tip from a grateful ex-convict seems implausible--but Inspector Ian Rutledge is intrigued and brings it to his superior at Scotland Yard. Alan Barrington, who has evaded capture for ten years, is the suspect in an appalling murder during Black Ascot, the famous 1910 royal horserace honoring the late King Edward VII. His disappearance began a manhunt that consumed Britain for a decade. Now it appears that Barrington has returned to England, giving the Yard a last chance to retrieve its reputation and see justice done.
| Call Number | Location | Status | Due Date |
| --- | --- | --- | --- |
| F TODD | New | In | |
Details & Subjects
Edition Statement :
First edition.
Series :
Inspector Ian Rutledge mystery ; bk. 21
ISBN :
0062678744
Physical Description :
342 pages ; 24 cm
Subjects :
Genres :