The Library will be closed Monday, May 27th for Memorial Day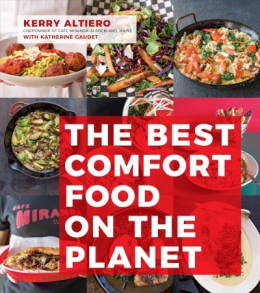 You haven't lived until you've added garlic French fries to your salad. Or better yet, try jalapeños stuffed with goat cheese and ricotta. Oh, add pasta with seared scallops, red pastrami and marsala cream to the list. These are just some of the insanely satisfying comfort food recipes Chef Kerry Altiero and Katherine Gaudet have up their sleeves. This book takes ordinary dishes like mac 'n cheese, salad and lasagne and turns them into Lobster Mac 'N Cheese, Hot Dressed Salad and Sorta Lasagne. Make Brussels sprouts a favorite by slow cooking them in cream, pizza more exciting with some Thai sweet chili sauce, and pot roast new again when topped with blue cheese. Each recipe has a unique approach that takes the flavor to new levels of greatness for you and your family. With one-of-a-kind recipes throughout, this book is a surefire way to have your dinner guests talking about your food and coming back for more.
| Call Number | Location | Status | Due Date |
| --- | --- | --- | --- |
| 641.5 ALT | Adult Nonfiction | In | |
Details & Subjects
Additional Authors :
Content :
Starters -- Soups and salads -- Pasta -- Vegetables and sides -- Dinners -- Bread, pizza and sandwiches -- Party food -- Components.
ISBN :
9781624146848
Physical Description :
240 pages : color illustrations ; 23 cm
Notes :
Subjects :
Genres :