Streaming video is here! Over 30,000 movies, TV shows, & documentaries for your computer, phone, tablet, or TV. Get started »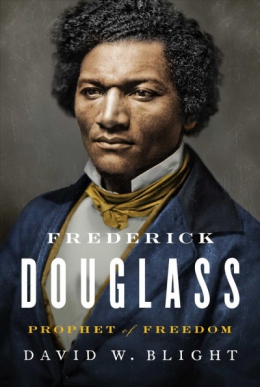 The definitive, dramatic biography of the most important African-American of the nineteenth century: Frederick Douglass, the escaped slave who became the greatest orator of his day and one of the leading abolitionists and writers of the era. As a young man Frederick Douglass (1818-1895) escaped from slavery in Baltimore, Maryland. He was fortunate to have been taught to read by his slave owner mistress, and he would go on to become one of the major literary figures of his time. He wrote three versions of his autobiography over the course of his lifetime and published his own newspaper. His very existence gave the lie to slave owners: with dignity and great intelligence he bore witness to the brutality of slavery. Initially mentored by William Lloyd Garrison, Douglass spoke widely, often to large crowds, using his own story to condemn slavery. He broke with Garrison to become a political abolitionist, a Republican, and eventually a Lincoln supporter. By the Civil War and during...
more »
| Call Number | Location | Status | Due Date |
| --- | --- | --- | --- |
| B DOUGLASS | New | Out | 4/12/19 |
Details & Subjects
Edition Statement :
First Simon & Schuster hardcover edition.
Content :
First things -- A childhood of extremes -- The silver trump of knowledge -- Baltimore dreams -- Now for mischief! -- Living a new life -- This Douglass! -- Garrisonian in mind and body -- The thought of writing for a book! -- Send back the money! -- Demagogue in black -- My faithful friend Julia -- By the rivers of Babylon -- My voice, my pen, or my vote -- John Brown could die for the slave -- Secession : taught by events -- The kindling spirit of his battle cry -- The anthem of the redeemed -- Men of color to arms! -- Abolition war, abolition peace -- Sacred efforts -- Othello's occupation was gone -- All the leeches that feed on you -- Ventures -- What will peace among the whites bring? -- An important and lucrative office -- Joys and sorrows at Cedar Hill -- Watchman, what of the night? -- Born traveler -- Haiti : servant between two masters -- If American conscience were only half-alive -- Epilogue: Then Douglass passed.
ISBN :
1416590315
Physical Description :
xx, 888 pages : illustrations ; 25 cm
Notes :
Includes bibliographical references and index.
Subjects :
Genres :