Streaming video is here! Over 30,000 movies, TV shows, & documentaries for your computer, phone, tablet, or TV. Get started »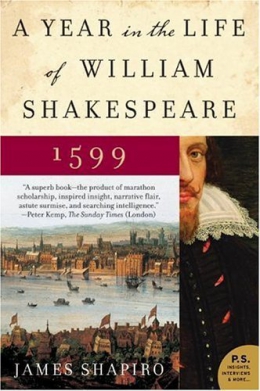 An intimate history of Shakespeare, following him through a single year--1599--that changed not only his fortunes but the course of literature. How was Shakespeare transformed from being a talented poet and playwright to become one of the greatest writers who ever lived? In this one exhilarating year we follow what he reads and writes, what he sees, and whom he works with as he invests in the new Globe Theatre and creates four of his most famous plays--Henry the Fifth, Julius Caesar, As You Like It, and, most remarkably, Hamlet. Shapiro illuminates both Shakespeare's staggering achievement and what Elizabethans experienced in the course of 1599: sending off an army to crush an Irish rebellion, weathering an Armada threat from Spain, gambling on the fledgling East India Company, and waiting to see who would succeed their aging and childless queen.--From publisher description.
| Call Number | Location | Status | Due Date |
| --- | --- | --- | --- |
| 822.33 SHA | Adult Nonfiction | In | |
Details & Subjects
Edition Statement :
1st U.S. ed.
Content :
Winter -- A battle of wills -- A great blow in Ireland -- Burial at Westminster -- A sermon at Richmond -- Band of brothers -- Spring -- The globe rises -- Book burning -- Is this a holiday? -- Summer -- The invisible Armada -- The passionate pilgrim -- Simple truth suppressed -- The forest of Arden -- Autumn -- Things dying, things newborn -- Essays and soliloquies -- Second thoughts.
Publication, Distribution, etc. :
New York : HarperCollins Publishers, 2005.
ISBN :
978060088736
Physical Description :
xix, 394 p., [8] p. of plates : ill. (some col.), maps (some col.) ; 24 cm.
Notes :
Includes bibliographical references (p. [335]-376) and index.
Subjects :