Streaming video is here! Over 30,000 movies, TV shows, & documentaries for your computer, phone, tablet, or TV. Get started »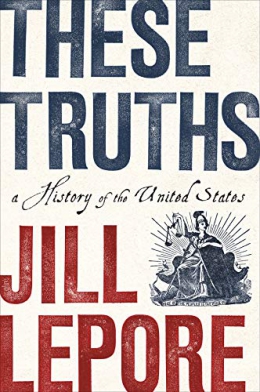 Jill Lepore offers a magisterial account of the origins and rise of a divided nation, an urgently needed reckoning with the beauty and tragedy of American history. Written in elegiac prose, Lepore's groundbreaking investigation places truth itself -- a devotion to facts, proof, and evidence -- at the center of the nation's history. The American experiment rests on three ideas -- "these truths," Jefferson called them -- political equality, natural rights, and the sovereignty of the people. And it rests, too, on a fearless dedication to inquiry, Lepore argues, because self-government depends on it. But has the nation, and democracy itself, delivered on that promise? This book tells this uniquely American story, beginning in 1492, asking whether the course of events over more than five centuries has proven the nation's truths, or belied them. To answer that question, Lepore traces the intertwined histories of American politics, law, journalism, and technology, from the colonial town...
more »
| Call Number | Location | Status | Due Date |
| --- | --- | --- | --- |
| 973 LEP | Adult Nonfiction | Out | 4/3/19 |
Details & Subjects
Edition Statement :
First edition.
Content :
Introduction: The question stated -- Part one: The idea (1492-1799). The nature of the past ; The rulers and the ruled ; Of wars and revolutions ; The constitution of a nation -- Part two: The people (1800-1865). A democracy of numbers ; The soul and the machine ; Of ships and shipwrecks ; The face of battle -- Part three: The state (1866-1945). Of citizens, persons, and people ; Efficiency and the masses ; A constitution of the air ; The brutality of modernity -- Part four: The machine (1946-2016). A world of knowledge ; Rights and wrongs ; Battle lines ; America, disrupted -- Epilogue: The question addressed.
ISBN :
0393635244
Physical Description :
xx, 932 pages : illustrations ; 25 cm
Notes :
Includes bibliographical references and index.
Subjects :
Genres :