Streaming video is here! Over 30,000 movies, TV shows, & documentaries for your computer, phone, tablet, or TV. Get started »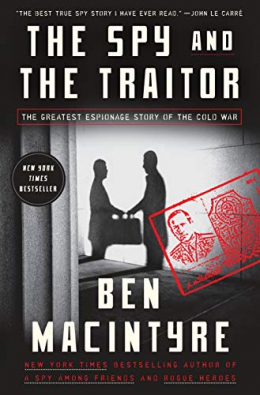 The Spy And The Traitor : The Greatest Espionage Story Of The Cold War
Book
Oleg Gordievsky was a spy like no other. The product of a KGB family and the best Soviet institutions, the savvy, sophisticated Russian eventually saw the lies and terror of the regime for what they were, a realization that turned him irretrievably toward the West. His KGB career took flight in Copenhagen in 1966 and eventually brought him to the highest post in the KGB's London station -- but throughout that time he was secretly working for MI6, the British intelligence service. Gordievsky was a spy of tremendous consequence. As the Cold War heated up in the era of Ronald Reagan and Margaret Thatcher, he provided critical information that foiled Soviet plots, exposed spies in the West, and ultimately avoided catastrophic nuclear escalation between the great powers. When Thatcher declared in 1984 that Mikhail Gorbachev was "a man one could do business with," it was largely because of information provided by Gordievsky. No Western country had ever run a spy so high up in Russian...
more »
| Call Number | Location | Status | Due Date |
| --- | --- | --- | --- |
| HOT PICK 327.12 MAC | Hot Picks | Out | 3/19/19 |
Details & Subjects
Edition Statement :
First edition.
Content :
Introduction: 19 May 1985 -- The KGB -- Uncle Gormsson -- SUNBEAM -- Green ink and microfilm -- A plastic bag and a Mars bar -- Agent BOOT -- The safe house -- Operation RYAN -- Koba -- Mr. Collins and Mrs. Thatcher -- Russian roulette -- Cat and mouse -- The dry cleaner -- The runner -- Finlandia -- Epilogue: Passport for Pimlico -- Codenames and aliases.
ISBN :
1101904194
Physical Description :
viii, 358 pages, 32 unnumbered pages of plates : illustrations (some color), map ; 25 cm
Notes :
Includes bibliographical references and index.
Subjects :
Genres :