Streaming video is here! Over 30,000 movies, TV shows, & documentaries for your computer, phone, tablet, or TV. Get started »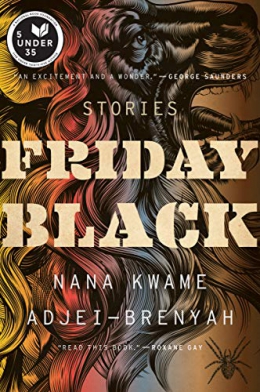 A piercingly raw debut story collection from a young writer with an explosive voice; a treacherously surreal, and, at times, heartbreakingly satirical look at what it's like to be young and black in America. From the start of this extraordinary debut, Nana Kwame Adjei-Brenyah's writing will grab you, haunt you, enrage and invigorate you. By placing ordinary characters in extraordinary situations, Adjei-Brenyah reveals the violence, injustice, and painful absurdities that black men and women contend with every day in this country. These stories tackle urgent instances of racism and cultural unrest, and explore the many ways we fight for humanity in an unforgiving world. In "The Finkelstein Five," Adjei-Brenyah gives us an unforgettable reckoning of the brutal prejudice of our justice system. In "Zimmer Land," we see a far-too-easy-to-believe imagining of racism as sport. And "Friday Black" and "How to Sell a Jacket as Told by Ice King" show the horrors of consumerism and the toll it...
more »
| Call Number | Location | Status | Due Date |
| --- | --- | --- | --- |
| F ADJEI-BRENYAH | Adult Fiction | On Hold | |
Details & Subjects
Content :
The Finkelstein 5 -- Things my mother said -- The era -- Lark Street -- The hospital where -- Zimmer Land -- Friday black -- The lion & the spider -- Light spitter -- How to sell a jacket as told by IceKing -- In retail -- Through the flash.
ISBN :
1328911241
Physical Description :
194 pages ; 21 cm
Notes :
"A Mariner Original"--Title page.
Subjects :
Genres :