Streaming video is here! Over 30,000 movies, TV shows, & documentaries for your computer, phone, tablet, or TV. Get started »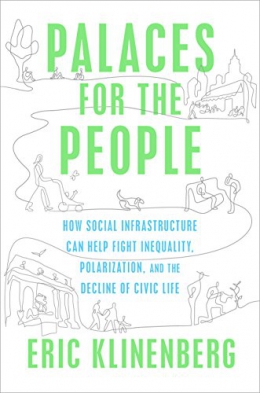 Palaces For The People : How Social Infrastructure Can Help Fight Inequality, Polarization, And The Decline Of Civic Life
Book
place hold

(

0

)
An eminent sociologist offers an inspiring blueprint for rebuilding our fractured society. We are living in a time of deep divisions. Americans are sorting themselves along racial, religious, and cultural lines, leading to a level of polarization that the country hasn't seen since the Civil War. Pundits and politicians are calling for us to come together, to find common purpose. But how, exactly, can this be done? In this book, Eric Klinenberg suggests a way forward. He believes that the future of democratic societies rests not simply on shared values but on shared spaces: the libraries, childcare centers, bookstores, churches, synagogues, and parks where crucial, sometimes life-saving connections, are formed. These are places where people gather and linger, making friends across group lines and strengthening the entire community. Klinenberg calls this the "social infrastructure." When it is strong, neighborhoods flourish; when it is neglected, as it has been in recent years, families...
more »
| Call Number | Location | Status | Due Date |
| --- | --- | --- | --- |
| 307.76 KLI | Adult Nonfiction | In | |
Details & Subjects
Edition Statement :
First edition.
Content :
Introduction: The social infrastructure -- A place to gather -- Safe spaces -- Learning together -- Healthy bonds -- Common ground -- Ahead of the storm -- Conclusion: Before we lift the next shovel.
ISBN :
1524761168
Physical Description :
277 pages : illustrations ; 25 cm
Notes :
Includes bibliographical references (pages [239]-266) and index.
Subjects :
Genres :