Streaming video is here! Over 30,000 movies, TV shows, & documentaries for your computer, phone, tablet, or TV. Get started »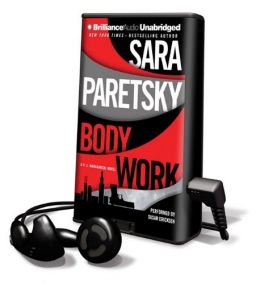 Body Work [Playaway] : A V.I. Warshawski Novel
Audiobook
place hold

(

0

)
V.I. has been visiting Club Gouge, Chicago's edgiest nightspot, where a woman known as the Body Artist turns her naked body into a canvas for the audience to paint on. The show attracts all kinds of people, from a menacing off-duty cop to Ukrainian mobsters and Iraq war vets, and V.I.'s impetuous cousin, Petra. A tormented young painter shows up, too, and the intricate designs she creates on the Body Artist drive one of the vets into a violent rage. When the painter is shot, the cops figure it's an easy collar -- PTSD vet goes off the rails, stalks then kills young woman. But the vet's family hires V.I. to clear his name, and the detective uncovers a chain of ugly truths that stretches all the way from Iraq to Chicago's South Side.
| Call Number | Location | Status | Due Date |
| --- | --- | --- | --- |
| PLAYAWAY F PARETSKY | Adult Playways | In | |
Details & Subjects
Additional Authors :
Edition Statement :
Unabridged.
Series :
V.I. Warshawski novel ; bk. 14
Publication, Distribution, etc. :
[Solon, Ohio] : Playaway Digital Audio : [Manufactured and distributed by] Findaway World, LLC, [2010], ℗2010.
ISBN :
1441879048
Physical Description :
1 sound media player (approximately 16 hr.) : digital, HD audio ; 3 3/8 x 2 1/8 in.
Notes :
Requires earbuds and 1 AAA battery for use.
Title from container.
Subjects :
Genres :