The Library will be closed Monday, May 27th for Memorial Day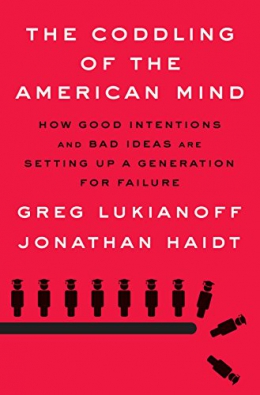 The Coddling Of The American Mind : How Good Intentions And Bad Ideas Are Setting Up A Generation For Failure
Book
place hold

(

0

)
Something has been going wrong on many college campuses in the last few years. Speakers are shouted down. Students and professors say they are walking on eggshells and are afraid to speak honestly. Rates of anxiety, depression, and suicide are rising -- on campus as well as nationally. How did this happen? First Amendment expert Greg Lukianoff and social psychologist Jonathan Haidt show how the new problems on campus have their origins in three terrible ideas that have become increasingly woven into American childhood and education: What doesn't kill you makes you weaker; Always trust your feelings; and Life is a battle between good people and evil people. These three Great Untruths contradict basic psychological principles about well-being and ancient wisdom from many cultures. Embracing these untruths -- and the resulting culture of safetyism -- interferes with young people's social, emotional, and intellectual development. It makes it harder for them to become autonomous adults who...
more »
| Call Number | Location | Status | Due Date |
| --- | --- | --- | --- |
| 305.242 LUK | Adult Nonfiction | In | |
Details & Subjects
Additional Authors :
Content :
Introduction: The search for wisdom -- Part I. Three bad ideas. The untruth of fragility: What doesn't kill you makes you weaker ; The untruth of emotional reasoning: Always trust your feelings ; The untruth of us versus them: Life is a battle between good people and evil people -- Part II. Bad ideas in action. Intimidation and violence ; Witch hunts -- Part III. How did we get here?. The polarization cycle ; Anxiety and depression ; Paranoid parenting ; The decline of play ; The bureaucracy of safetyism ; The quest for justice -- Part IV. Wising up. Wiser kids ; Wiser universities ; Wiser societies -- Appendix 1: How to do CBT ; Appendix 2: The Chicago Statement on Principles of Free Expression.
ISBN :
0735224897
Physical Description :
338 pages : illustrations ; 25 cm
Notes :
Includes bibliographical references (pages 283-327) and index.
Subjects :
Genres :