Streaming video is here! Over 30,000 movies, TV shows, & documentaries for your computer, phone, tablet, or TV. Get started »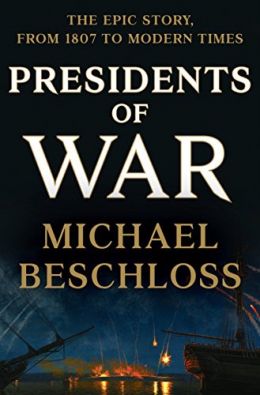 Presidents Of War : The Epic Story, From 1807 To Modern Times
Book
place hold

(

0

)
From a pre-eminent presidential historian comes a groundbreaking and often surprising saga of America's wartime chief executives. Ten years in the research and writing, this book is a fresh, magisterial, intimate look at a procession of American leaders as they took the nation into conflict and mobilized their country for victory. It brings us into the room as they make the most difficult decisions that face any President, at times sending hundreds of thousands of American men and women to their deaths. From James Madison and the War of 1812 to recent times, we see them struggling with Congress, the courts, the press, their own advisors and antiwar protesters; seeking comfort from their spouses, families and friends; and dropping to their knees in prayer. We come to understand how these Presidents were able to withstand the pressures of war -- both physically and emotionally -- or were broken by them. Beschloss' interviews with surviving participants in the drama and his findings in...
more »
| Call Number | Location | Status | Due Date |
| --- | --- | --- | --- |
| 355 BES | Adult Nonfiction | In | |
Details & Subjects
Edition Statement :
First edition.
Content :
Torrent of passion -- Man of straw -- The most glorious war -- The country is almost ours -- A presidential war -- Fort Sumter -- Blood flowing all about me -- Maine blown up -- We must keep what we want -- The world is on fire -- Salvation of mankind -- How could this have happened? -- The survival war -- I am going to let them have it -- I didn't ask their permission -- We got slapped -- I don't see any way of winning.
ISBN :
0307409600
Physical Description :
xi, 739 pages, 32 unnumbered pages of plates : illustrations (some color) ; 25 cm
Notes :
Includes bibliographical references and index.
Subjects :
Genres :