The Library will be closed Monday, May 27th for Memorial Day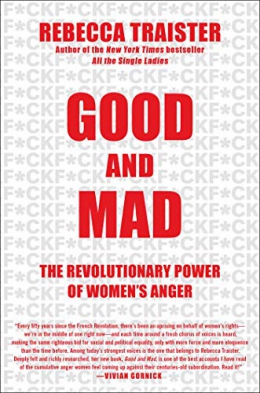 Good And Mad : The Revolutionary Power Of Women's Anger
Book
place hold

(

0

)
This is a vital, incisive exploration into the transformative power of female anger and its ability to transcend into a political movement. In the year 2018, it seems as if women's anger has suddenly erupted into the public conversation. But long before Pantsuit Nation, before the Women's March, and before the #MeToo movement, women's anger was not only politically catalytic, but politically problematic. The story of female fury and its cultural significance demonstrates the long history of bitter resentment that has enshrouded women's slow rise to political power in America, as well as the ways that anger is received when it comes from women as opposed to when it comes from men. With eloquence and fervor, Rebecca tracks the history of female anger as political fuel -- from suffragettes chaining themselves to the White House to office workers vacating their buildings after Clarence Thomas was confirmed to the Supreme Court. Here Traister explores women's anger at both men and other...
more »
| Call Number | Location | Status | Due Date |
| --- | --- | --- | --- |
| 305.42 TRA | Adult Nonfiction | In | |
Details & Subjects
Edition Statement :
First Simon & Schuster hardcover edition.
Content :
Introduction -- Eruption. Sleeping giant ; The grand illusion ; We're not cheerful anymore ; The winter of our discontent -- Medusas. Hold your temper/hold your tongue ; The circle of entrapment: the heavy price of rage ; Dress up your anger ; How minority rules -- Season of the witch. Getting away with it ; Trust no one ; Collateral damage ; Sympathy for the devils -- The furies. The exhilaration of activism ; Restorative justice ; My sisters are here -- Conclusion.
ISBN :
1501181793
Physical Description :
xxxi, 284 pages ; 24 cm
Notes :
Illustrations on endpapers.
Includes bibliographical references and index.
Subjects :
Genres :