The library building is currently closed due to Covid-19. Visit our homepage for more information.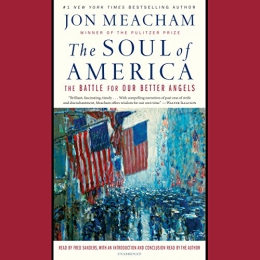 The Soul Of America [CD Book] : The Battle For Our Better Angels
Audiobook
place hold

(

0

)
The current climate of partisan fury is not new, and in The Soul of America, Meacham shows us how what Lincoln called the "better angels of our nature" have won the day. Painting surprising portraits of Presidents and others, and illuminating the courage of influential citizen activists, Meacham brings vividly to life turning points in American history.
| Call Number | Location | Status | Due Date |
| --- | --- | --- | --- |
| CD BOOK 973 MEA | Adult CD Books Nonfiction | In | |
Details & Subjects
Additional Authors :
Edition Statement :
Unabridged.
Content :
To hope rather than to fear -- The confidence of the whole people: visions of the presidency, the ideas of progress and prosperity, and 'We, the people' -- The long shadow of Appomattox: the Lost Cause, the Ku Klux Klan, and Reconstruction -- With soul of flame and temper of steel: "the melting pot," TR and his "bully pulpit," and the progressive promise -- A new and good thing in the world: the triumph of women's suffrage, the Red Scare, and a new Klan -- The crisis of the old order: the Great Depression, Huey Long, the New Deal, and America First -- Have you no sense of decency?: 'making everyone middle class," the GI Bill, McCarthyism, and modern media -- What the hell is the presidency for?: 'segregation forever, ' King's crusade, and LBJ in the crucible -- The first duty of an American citizen.
ISBN :
0525640037
Physical Description :
9 audio discs (11 hr.) : CD audio, digital ; 4 3/4 in.
Notes :
Read by Fred Sanders, with an introduction and conclusion read by the author.
Subjects :
Genres :