The library will be closed Monday, January 20th for Martin Luther King Jr. Day.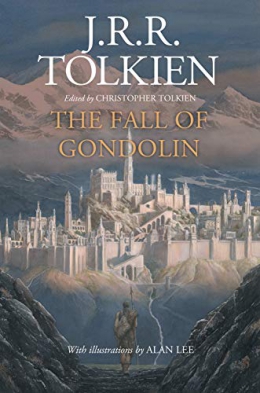 Evil Morgoth rules over a vast military power from his fortress of Angband. Ulmo, the Lord of Waters, opposes him. Central to this enmity of the gods is the city of Gondolin, built and peopled by Noldorin Elves who rebelled against their rule and fled to Middle-earth. Into this world comes Tuor, cousin of Túrin. Guided unseen by Ulmo, Tuor sets out from the land of his birth on the fearful journey to Gondolin. The story -- only ninety-five pages long-- is accompanied by variant forms as well as essays and commentaries on Tolkien's work and on the source material.
| Call Number | Location | Status | Due Date |
| --- | --- | --- | --- |
| F TOLKIEN | Adult Fiction | In | |
Details & Subjects
Additional Authors :
Edition Statement :
First U.S. edition.
Series :
Middle-Earth Universe
Content :
Prologue -- The original tale -- The earliest text -- Turlin and the exiles of Gondolin -- The story told in the sketch of the mythology -- The story told in the Quenta Noldorinwa -- The last version -- The evolution of the story -- Conclusion.
ISBN :
1328613046
Physical Description :
302 pages : illustrations (chiefly color), map (foldout), genealogical table ; 22 cm
Notes :
Includes bibliographical references (pages 287-300).
Subjects :
Genres :