The Library will be closed Sunday, April 21st for Easter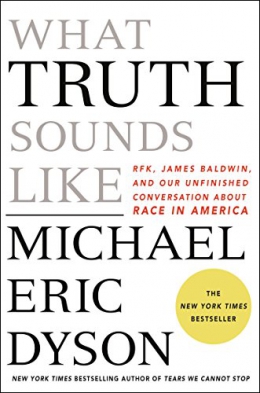 What Truth Sounds Like : Robert F. Kennedy, James Baldwin, And Our Unfinished Conversation About Race In America
Book
place hold

(

0

)
In 1963 Attorney General Robert Kennedy sought out James Baldwin to explain the rage that threatened to engulf black America. Baldwin brought along some friends, including playwright Lorraine Hansberry, psychologist Kenneth Clark, and a valiant activist, Jerome Smith. It was Smith's relentless, unfiltered fury that set Kennedy on his heels, reducing him to sullen silence. Kennedy walked away from the nearly three-hour meeting angry -- that the black folk assembled didn't understand politics, and that they weren't as easy to talk to as Martin Luther King. But especially that they were more interested in witness than policy. But Kennedy's anger quickly gave way to empathy, especially for Smith. "I guess if I were in his shoes ... I might feel differently about this country." Kennedy set about changing policy -- the meeting having transformed his thinking in fundamental ways. There was more: every big argument about race that persists to this day got a hearing in that room. Smith...
more »
| Call Number | Location | Status | Due Date |
| --- | --- | --- | --- |
| 305.8 DYS | Adult Nonfiction | In | |
Details & Subjects
Edition Statement :
First edition.
Content :
The martyrs -- The meeting -- The politicians : whiteness and the state -- The artists : dangerous intersections -- The intellectuals : black on black minds -- The activists 1 : policy and witness -- The activists 2 : bad niggers -- After the meeting : resurrection for RFK -- Even if : Wakanda. Forever.
ISBN :
1250199417
Physical Description :
294 pages ; 21 cm
Notes :
Includes bibliographical references (pages 283-294).
Subjects :
Genres :