The Library will be closed Sunday, April 21st for Easter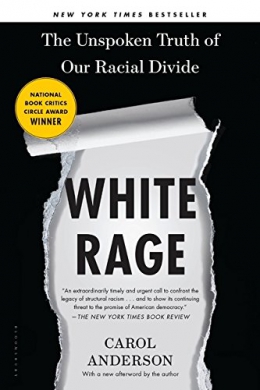 White Rage : The Unspoken Truth Of Our Racial Divide
Book
place hold

(

0

)
As Ferguson, Missouri, erupted in August 2014, and media commentators across the ideological spectrum referred to the angry response of African Americans as "black rage," historian Carol Anderson wrote an op-ed in the Washington Post showing that this was, instead, "white rage at work. With so much attention on the flames,"' she writes, "everyone had ignored the kindling." Since 1865 and the passage of the Thirteenth Amendment, every time African Americans have made advances towards full participation in our democracy, white reaction has fueled a deliberate and relentless rollback of their gains. The end of the Civil War and Reconstruction was greeted with the Black Codes and Jim Crow; the Supreme Court's landmark 1954 Brown v. Board of Education decision was met with the shutting down of public schools throughout the South while taxpayer dollars financed segregated white private schools; the Civil Rights Act of 1964 and Voting Rights Act of 1965 triggered a coded but powerful...
more »
| Call Number | Location | Status | Due Date |
| --- | --- | --- | --- |
| 305.8 AND | Adult Nonfiction | In | |
Details & Subjects
Content :
Prologue: Kindling -- Reconstructing reconstruction -- Derailing the Great Migration -- Burning Brown to the ground -- Rolling back civil rights -- How to unelect a black President -- Epilogue: Imagine.
ISBN :
1632864126
Physical Description :
246 pages ; 25 cm
Notes :
Includes bibliographical references (pages 167-229) and index.
Subjects :
Genres :