The library will open at 12pm today (Tuesday)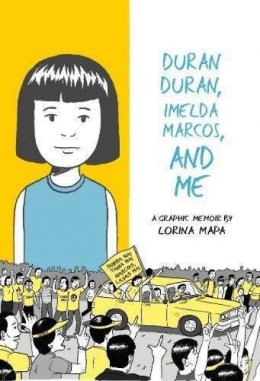 Duran Duran, Imelda Marcos, And Me : A Graphic Memoir
Book
place hold

(

0

)
A graphic memoir about growing up in the Philippines in the 1980s with Depeche Mode, Duran Duran, Imelda Marcos and the EDSA Revolution. When she learns of her beloved father's fatal car accident, Mapa flies to Manila to attend his funeral. His sudden death sparks childhood memories. Weaving the past with the present, Mapa entertains with stories about religion, pop culture, adolescence, social class and politics, including her experiences of the 1986 People Power Revolution which made headlines around the world. It is a love letter to her parents, family, friends, country of birth, and in the end, perhaps even to herself.
| Call Number | Location | Status | Due Date |
| --- | --- | --- | --- |
| 959.9 MAP YA | YA Nonfiction | In | |
Details & Subjects
Edition Statement :
First edition.
ISBN :
1772620114
Physical Description :
131 pages : chiefly illustrations ; 23 cm
Notes :
Subjects :
Genres :